Buttress Lead Gages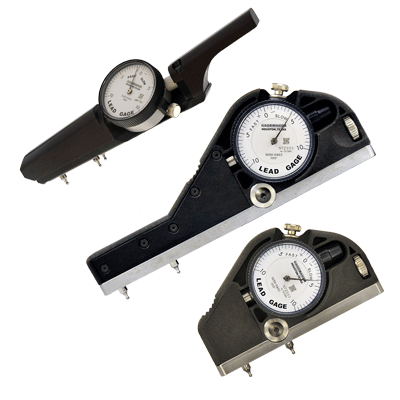 Thread Lead
Thread Lead is probably one of the most important thread elements if not the most important in the thread cutting industry. Lead error (which often leads to standoff error on tapered threads) is the most common error generated by manual and CNC lathes not cutting properly. Worn ball, lead screws, Z axis servo drives and spindle encoders on threading lathes will permit the cutting tool to stall, slow down or lag, which causes the thread pitch to be shorter than programmed on the first and second threads. This in turn results in lead error…standoff error… and eventually a failed connection.
The lead gage inspects thread lead using contact points that seat in the threads of a part. Thread lead is the distance between threads, measured on a plane parallel to the centerline of the threaded part. The pitch of the thread determines the diameter of the contact points required for taking measurements.
Thread Lead Gages inspect both internal and external thread lead for a variety of thread forms and provide dimensional verification of product print data on the integrity of your threads. Gagemaker has both two-point and three-point system lead gages that are designed to accurately inspect lead for ACME, Stub ACME, UN, and API threads.
Inspecting lead is a highly recommended practice industry wide for both straight and tapered thread manufacturers and it is a required inspection by the American Petroleum Institute for line pipe, rotary shouldered connections and casing and tubing.
The LG-6001 and the LG-6002 use a two-point system to inspect thread lead for straight and tapered threads. The LG-6002 inspects both external and internal threads, while the LG-6001 inspects external threads. The two point system allows for a sweeping action to obtain the measurement. Both gages are available with higher resolution indicators.
The LG-5003 uses the three-point system to inspect internal and external thread lead. Two fixed contact points at the rear of the gage and one moveable contact point at the front of the gage provide complete stability when taking thread lead measurements. This unique design does not require sweeping to obtain measurements.
Contact points can be easily changed to allow the gage to be used on a variety of thread forms. Each gage comes with a default set of contact points, but customer may specify another set.
Before inspecting parts, the lead gage must be preset to a nominal predetermined dimension using a lead gage setting standard. Lead standards are available for both straight and tapered threads. Our setting standards are manufactured according to ANSI and API specifications, respectively.
Features
Uses a three-point system for greater stability when inspecting parts (LG-5003).
Uses interchangeable contact points to allow inspection on a variety of thread forms.
Requires presetting using Gagemaker's lead gage setting standards
Supplied with one set of contact points. Customer may specify points.
---
Number of
Contact Points
Thread Length
Range
External/Internal
Minimum
Bore
Indicator
Travel
Indicator
Resolution
Contact Point
Spacing
Description
Model
2
½" – 2" (12.7 mm – 50.8 mm)
External
2.750"
.100″
.0005"
.200"
2-point external lead gage
LG-6001
2
½" – 2"(12.7 mm – 50.8 mm)
External
2.750"
.025"
.0001"
.200"
2-point external lead gage, ¼" travel, .0001" resolution
LG-6001-1
2
½" – 4" (0 mm – 101.6 mm)
Internal
1.450"
.100″
.0005"
.200"
2-point internal lead gage
LG-6002
2
½" – 4" (0 mm – 101.6 mm)
Internal
1.450"
.025"
.0001"
.200"
2-point internal lead gage, ¼" travel, .0001" resolution
LG-6002-1
2
½" – 4" (0 mm – 101.6 mm)
Internal
1.450"
5 mm
.01 mm
.200"
2-point internal lead gage with metric indicator
LG-6002-M
3
½" – 4" (0 mm – 101.6 mm)
External/Internal
1.340"
.100″
.0005"
.500"
3-point external/internal lead gage
LG-5003
3
½" – 4" (0 mm – 101.6 mm)
External/Internal
1.340"
.025"
.0001"
.500"
3-point external/internal lead gage, ½" travel, .0001" resolution
LG-5003-1
3
½" – 4" (0 mm – 101.6 mm)
External/Internal
1.340"
.100″
.0005"
.193"
3-point external/internal lead gage
LG-5003-J
3
½" – 4" (0 mm – 101.6 mm)
External/Internal
1.340"
.025"
.0001"
.193"
3-point external/internal lead gage, ½" travel, .0001" resolution
LG-5003-1J
3
½" – 4" (0 mm – 101.6 mm)
External/Internal
34 mm
5 mm
.01 mm
12.7 mm
3-point external/internal lead gage with metric indicator
LG-5003-M
3
½" – 4" (0 mm – 101.6 mm)
External/Internal
1.500"
.100″
.0005"
.167"
Load to load 3-point external/internal lead gage
LG-5003-L
3
½" – 4" (0 mm – 101.6 mm)
External/Internal
1.500"
.100″
.0005"
.167"
Stab to stab 3-point external/internal lead gage
LG-5003-S
| Connection | Pitch | TPI | TPF | Thread Form | Description | Model |
| --- | --- | --- | --- | --- | --- | --- |
| 8 Round & 10 Round | – | 8 & 10 | ¾" | EUE, NUE, LTC, STC | Lead standard for all 8 Round casing, tubing & drill pipe; 10 Round tubing | LS-1001 |
| Straight | 6-18 | 6-18 | – | Straight | Lead standard for straight threads, 6-18 pitch, 4" length, .375" width | LS-1002 |
| 11½ Pitch "V" Threads | – | 11½ | ¾" | Line Pipe & NPT | Lead standard for 11½ Pitch "V" Threads | LS-1003 |
| Straight & NPS | 11½ | 11½ | – | Straight & NPS | Lead standard for straight threads, NPS threads | LS-1004 |
| 4½" – 13⅜" Buttress | – | 5 | ¾" | Buttress | Lead standard for ¾" Buttress | LS-1005 |
| 16" & Larger Buttress | – | 5 | 1" | Buttress | Lead standard for 1" Buttress | LS-1006 |
| Hughes External Flush 2⅜" – 2⅞" | – | 6 | 2" | V-0.032 | Lead standard for 6 TPI, 2" TPF, V-0.032 | LS-1007 |
| API Full Hole 4", 5½" & 6⅝" ; API Numbered Connections #23 – #50; API Regular 6⅝" ; Double Streamline 3½" – 5½"; Hughes Slim Hole 2⅜" – 4½"; Hughes Xtra Hole 2⅞" – 5"; Hughes External Flush 3½" – 4½"; Internal Flush 2⅜" – 6⅝" ; Wide Open 2⅜" – 4½" | – | 4 | 2" | V-0.038R & V-0.050 | Lead standard for 4 TPI, 2" TPF, V-0.038R, & V-0.050 thread forms | LS-1007 |
| API Numbered Connections #56 – #84 & API Regular 5½", 7⅝", & 8⅝" | – | 4 | 3" | V-0.038R & V-0.050 | Lead standard for 4 TPI, 3" TPF, V-0.038R, & V-0.050 thread forms | LS-1008 |
| API Full Hole 2⅞", 3½", & 4½" & API Regular 2⅜" – 4½" | – | 5 | 3" | V-0.040 | Lead standard for 5 TPI, 3" TPF, V-0.040 thread forms | LS-1009 |
*TPF = Taper Per Foot, TPI = Threads Per Inch