Pin Seal Diameter Gages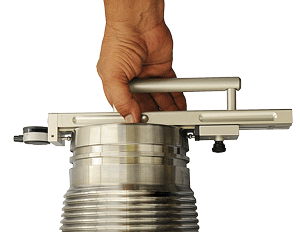 Pin Seal Diameter
The Pin Seal Diameter Series of gages inspect critical pin seal diameters and seal tapers on premium connections. With the addition of stand-off plates, the gages also inspect seal tapers. Each model covers a specific range of connection sizes, making the PN series (PN, PNI, PNA, PN-30) of gages extremely versatile and economical.
The PN gages use precision interchangeable contact points that position on the seal at a fixed distance from the connection face during inspection.
Before inspecting parts, these gages must be preset to a nominal predetermined dimension using gage blocks, Gagemaker's Pin Seal Diameter Gage Setting Master, a MIC TRAC Gage Setting System, or frame standards. All setting equipment sold separately.
For replacement parts or customer specific versions of our pin nose gages, please contact customer service.
Features
Provides accurate measurements on the gage's indicator at the critical sealing point of the pin.
Uses interchangeable contact points.
Available with a .0005″, .0001″, or metric resolution indicator.
Requires presetting using gage blocks, Gagemaker's Pin Seal Diameter Gage Setting Master, Frame Standards, or a MIC TRAC system.
Allows use in manufacturing or field environment due to durable construction.
---

Back-of-Box Seal
Back-of-Box gage measures coupling and box seal diameters. Gage must be preset with a standard.
For standards, please contact us for a quotation.
---
Internal Diameter/Grooves
Gagemaker's internal diameter and groove gages measure variation in internal bore diameters. Diameter/groove gages are shipped with two .072″ diameter contact points (T072) as standard.
Refer to the contact point page for the proper contact point for your particular application.
Range
Depth
Indicator
Travel
Indicator
Resolution
Angled Points
Description
Model
1½" – 10" (38.1 mm – 254 mm)
4" (101.6 mm)
½"
.0005"
No
Internal diameter/groove gage
IT-5104
1½" – 10" (38.1 mm – 254 mm)
4" (101.6 mm)
½"
.0001"
No
Internal diameter/groove gage, .0001" resolution indicator
IT-5104-1
1½" – 10" (38.1 mm – 254 mm)
4" (101.6 mm)
½"
.0005"
Yes, 30°
Internal diameter/groove gage with points at 30° angle
IT-5104-30
1½" – 10" (38.1 mm – 254 mm)
4" (101.6 mm)
½"
.0001"
Yes, 30°
Internal diameter/groove gage with points at 30° angle and .0001" Resolution Indicator
IT-5104-30-1
1½" – 10" (38.1 mm – 254 mm)
4" (101.6 mm)
½"
.0005"
Yes, 45°
Internal diameter/groove gage with points at 45° angle
IT-5104-45
1½" – 10" (38.1 mm – 254 mm)
4" (101.6 mm)
½"
.0001"
Yes, 45°
Internal diameter/groove gage with points at 45° angle and .0001" Resolution Indicator
IT-5104-45-1
1½" – 10" (38.1 mm – 254 mm)
6" (152.4 mm)
½"
.0005"
No
Internal diameter/groove gage
IT-5106
1½" – 10" (38.1 mm – 254 mm)
6" (152.4 mm)
½"
.0001"
No
Internal diameter/groove gage, .0001" resolution indicator
IT-5106-1
1½" – 10" (38.1 mm – 254 mm)
6" (152.4 mm)
10 mm
.01 mm
No
Internal diameter/groove gage with metric indicator
IT-5106-M
1½" – 12" (38.1 mm – 304.8 mm)
6" (152.4 mm)
½"
.0005"
No
Internal diameter/groove gage
IT-5106-12
1½" – 10" (38.1 mm – 254 mm)
6" (152.4 mm)
½"
.0005"
Yes, 30°
Internal diameter/groove gage with points at 30° angle
IT-5106-30
1½" – 10" (38.1 mm – 254 mm)
6" (152.4 mm)
½"
.0001"
Yes, 30°
Internal diameter/groove gage with points at 30° angle and .0001" Resolution Indicator
IT-5106-30-1
1½" – 10" (38.1 mm – 254 mm)
6" (152.4 mm)
½"
.0005"
Yes, 45°
Internal diameter/groove gage with points at 45° angle
IT-5106-45
1½" – 10" (38.1 mm – 254 mm)
6" (152.4 mm)
½"
.0001"
Yes, 45°
Internal diameter/groove gage with points at 45° angle and .0001" Resolution Indicator
IT-5106-45-1
1½" – 10" (38.1 mm – 254 mm)
8" (203.2 mm)
½"
.0005"
No
Internal diameter/groove gage
IT-5108
1½" – 10" (38.1 mm – 254 mm)
8" (203.2 mm)
½"
.0001"
No
Internal diameter/groove gage, .0001" resolution indicator
IT-5108-1
1½" – 10" (38.1 mm – 254 mm)
8" (203.2 mm)
10 mm
.01 mm
No
Internal diameter/groove gage with metric indicator
IT-5108-M
1½" – 10" (38.1 mm – 254 mm)
8" (203.2 mm)
½"
.0005"
Yes, 30°
Internal diameter/groove gage with points at 30° angle
IT-5108-30
1½" – 10" (38.1 mm – 254 mm)
8" (203.2 mm)
½"
.0001"
Yes, 30°
Internal diameter/groove gage with points at 30° angle and .0001" Resolution Indicator
IT-5108-30-1
1½" – 10" (38.1 mm – 254 mm)
8" (203.2 mm)
½"
.0005"
Yes, 45°
Internal diameter/groove gage with points at 45° angle
IT-5108-45
1½" – 10" (38.1 mm – 254 mm)
8" (203.2 mm)
½"
.0001"
Yes, 45°
Internal diameter/groove gage with points at 45° angle and .0001" Resolution Indicator
IT-5108-45-1
1½" – 10" (38.1 mm – 254 mm)
12" (304.8 mm)
½"
.0005"
No
Internal diameter/groove gage
IT-5112
1½" – 10" (38.1 mm – 254 mm)
12" (304.8 mm)
½"
.0001"
No
Internal diameter/groove gage, .0001" resolution indicator
IT-5112-1
1½" – 10" (38.1 mm – 254 mm)
12" (304.8 mm)
10 mm
.01 mm
No
Internal diameter/groove gage with metric indicator
IT-5112-M
| Length | Related Gage | Angled Points | Description | Model |
| --- | --- | --- | --- | --- |
| – | IT-5100 Series | – | Socket Set Screw (6-32 X .1875) | IT-5100-A4 |
| 4" (101.6 mm) | IT-5104, IT-5104-1 | No | Replacement Lower Arm, 4¼" Length | IT-5104-LA |
| 4" (101.6 mm) | IT-5104, IT-5104-1 | No | IT-5104 Upper Arm with spring | IT-5104UA |
| 4" (101.6 mm) | IT-5104-30, IT-5014-30-1 | Yes, 30° | IT-5104 Upper Arm with points at 30° angle | IT-5104-30-UA |
| 6" (152.4 mm) | IT-5106, IT-5106-1 | No | Replacement Lower Arm, " Length | IT-5106-LA |
| 6" (152.4 mm) | IT-5106, IT-5106-1 | No | IT-5106 Upper Arm with spring | IT-5106UA |
| 6" (152.4 mm) | IT-5106-30, IT-5106-30-1 | Yes, 30° | IT-5106 Upper Arm with points at 30° angle | IT-5106-30-UA |
| 8" (152.4 mm) | IT-5108, IT-5108 | No | Replacement Lower Arm, " Length | IT-5108-LA |
| 8" (152.4 mm) | IT-5108, IT-5108-1 | No | IT-5106 Upper Arm with spring | IT-5108UA |
| 8" (152.4 mm) | IT-5108-30, IT-5108-30-1 | Yes, 30° | IT-5106 Upper Arm with points at 30° angle | IT-5108-30-UA |